Explore Tivoli's Villa Adriana| The Renaissance's Inspiration
Contents
What is Villa Adriana?
Villa Adriana, or Hadrian's Villa, near Tivoli, Italy, is an exceptional 2nd-century AD archaeological complex. Built as Emperor Hadrian's private retreat, it spans 120 hectares and showcases Roman, Greek, and Egyptian architectural styles. The gardens feature lush greenery, fountains, and statues, inspiring European landmarks. Now an Italian museum and UNESCO World Heritage Site, Villa Adriana offers a captivating journey into history and art, revealing the opulence of Emperor Hadrian's life. Whether you love history, art, or seek a tranquil escape, this remarkable estate promises an immersive experience in the grandeur of ancient Rome.
Quick Facts I Villa Adriana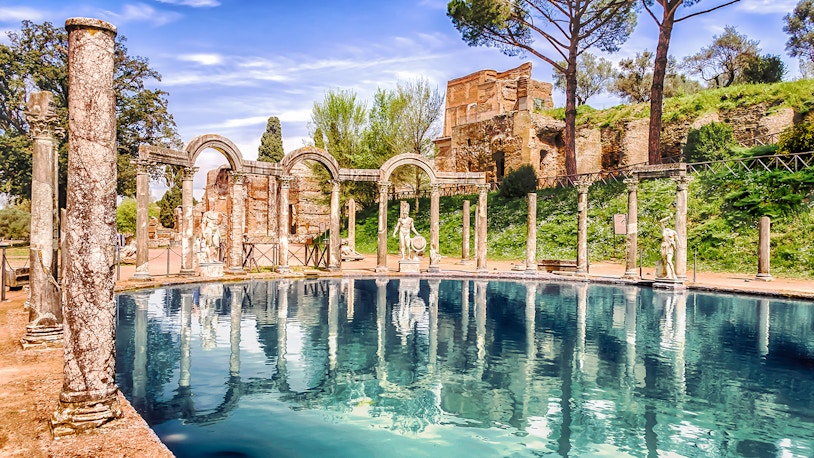 Location: Tivoli, Italy (approximately 30 kilometers east of Rome)
Type of Attraction: Archaeological Complex and State Museum
Year of Construction: 2nd century AD
Commissioned by: Emperor Hadrian Architectural
Styles: Roman, Greek, and Egyptian influences
Highlights: Sprawling grounds, diverse architectural features, extensive gardens, impressive pools, and canals.
UNESCO World Heritage Site: Yes, designated in 1999
Size: Spanning over 120 hectares
Why Visit Villa Adriana Tivoli, Italy?
Archaeological Marvel: Villa Adriana, also known as Hadrian's Villa, stands as an awe-inspiring archaeological marvel. Built in the 2nd century AD, this vast complex showcases the grandeur of Roman architecture and design.
Roman Emperor's Retreat: Step into the private world of Emperor Hadrian as you explore his magnificent retreat. Discover the opulent palaces, stunning pools, and captivating gardens that once served as his escape from the bustling city of Rome.
UNESCO World Heritage Site: Villa Adriana holds the prestigious title of a UNESCO World Heritage Site since 1999. Its historical significance and contribution to Roman ideals make it a living testament to the empire's ambitions and legacies.
Rich Historical Insights: Delve into the fascinating history of Villa Adriana, dating back to the 2nd century. Unravel the secrets of its construction, the architectural genius behind its Greek, Roman, and Egyptian influences, and its role in shaping Italian culture during the ancient times
Breathtaking Scenery: Marvel at the breathtaking scenery surrounding Villa Adriana, nestled amidst the lush countryside of Tivoli. The sprawling gardens, terraces, and panoramic views offer a captivating journey through time and natur
Plan Your Visit to Villa Adriana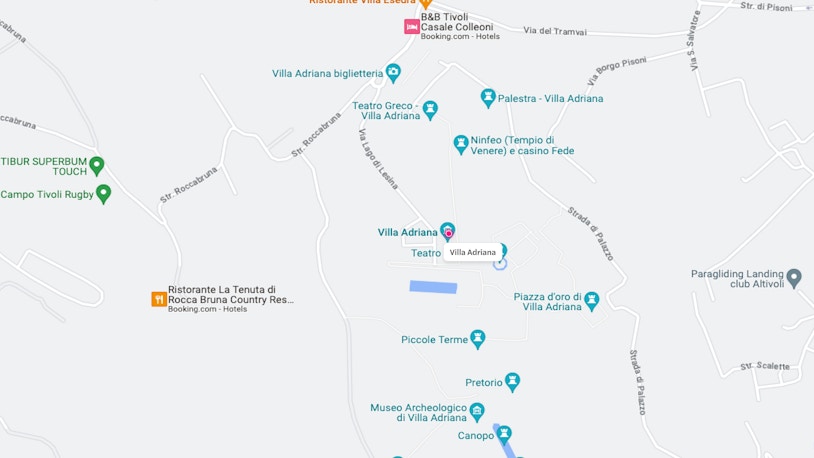 Address: Largo Marguerite Yourcenar, 1- 00019 Tivoli (RM)
Villa Adriana is located in Tivoli, roughly 30 kilometers East of Rome.
Getting There
The shortest route to Villa Adriana from Rome is to take a direct train from Termini/ Tiburtina to Tivoli station. From there, boarding the Bus #4 will lead you to the Villa. You can also take the Metro Line B to Ponte Mammolo and then a bus designated for Tivoli.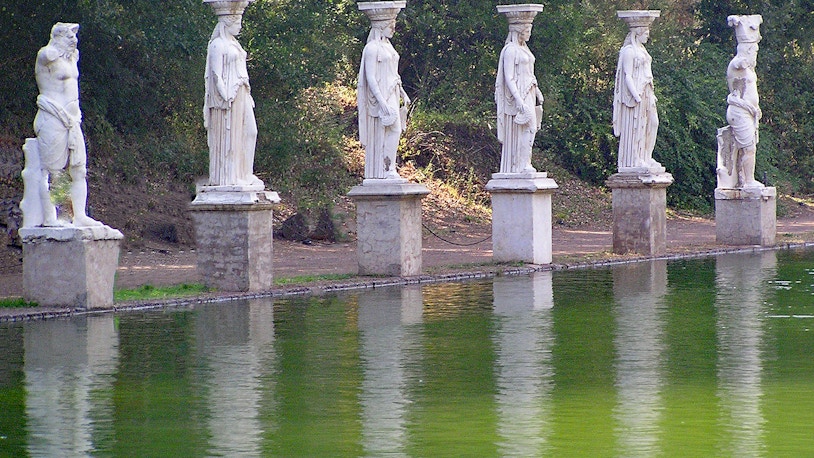 Villa Adriana is open from Monday- Sunday.
The Villa opens at (9 AM on all days.
Vila Adrianna is closed on 1 January and 25 December.
The Villa's closing hours vary throughout the year:
January: 5 PM
February: 6 PM
March: 6:30 PM
April: 7 PM
May to August: 7:30 PM
September: 7 PM
October: 6:30 PM
November to December: 3:30 PM
What to See at Villa Adriana?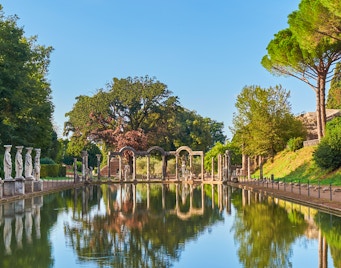 The Emperor's Residence
Villa Adriana, also known as Hadrian's Villa, served as the splendid personal residence of the Roman Emperor Hadrian. The vast complex boasts numerous architectural wonders, providing a fascinating glimpse into the opulent taste and lifestyle of one of Rome's most influential rulers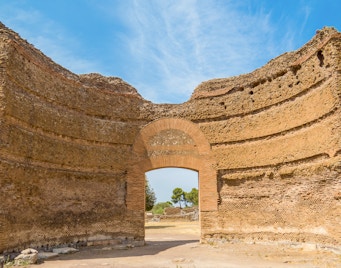 The Imperial Palace
The Imperial Palace at Villa Adriana stands as a testament to the grandeur of Roman architecture and design. The sprawling grounds encompass several luxurious apartments, each with its unique charm and purpose. From the magnificent Grand Salon and the impressive Throne Room to the intimate Bedroom, Private Study, and Chapel, these areas offer an immersive experience into the life of Emperor Hadrian.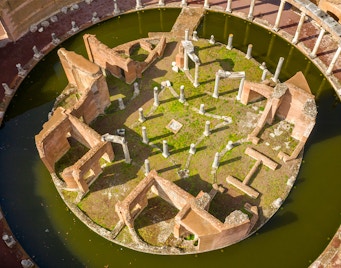 The Maritime Theatre
Among the most intriguing features of Villa Adriana is the Maritime Theatre. This artificial island in the shape of a ship boasts a circular building that served as Hadrian's private retreat. The innovative design and stunning views from the theatre exemplify the creativity and indulgence of the Roman Empire's elite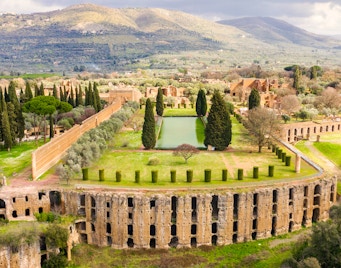 The Antinoeion
The Antinoeion Villa in Hadrian's Villa, Tivoli, Italy, was a grand structure constructed during the Roman period, reflecting Emperor Hadrian's admiration for his beloved Antinous. This elaborate villa showcased impressive architectural elements, including a large courtyard and sculptures, offering a glimpse into the opulent lifestyle of the Roman elite.
Book Villa Adriana Tickets
Villa Adriana Tivoli | UNESCO World Heritage Site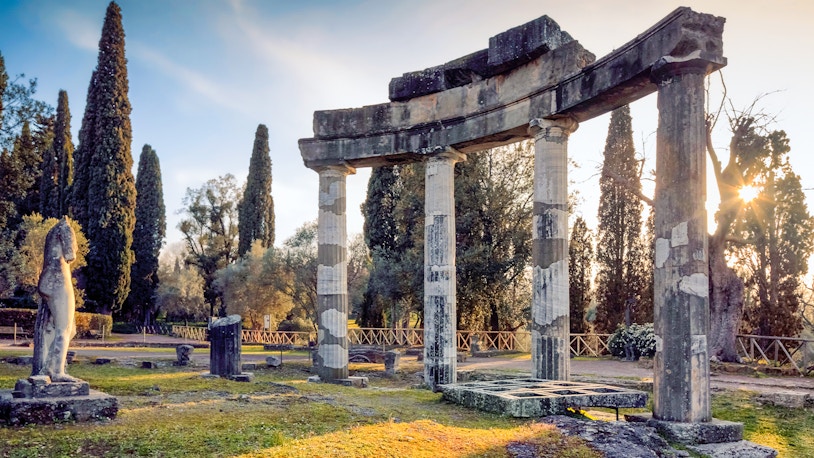 In 1999, Villa Adriana, also known as Hadrian's Villa, received UNESCO World Heritage Site status. Honored for its historical significance, architectural brilliance, and influence on Roman art and culture, the villa's design blends captivating Roman styles. Built in the 2nd century AD as Emperor Hadrian's retreat, its gardens, buildings, and water systems exemplify Roman engineering and artistry. Villa Adriana's influence extended to Europe, inspiring iconic landmarks like the Peterhof Palace in St. Petersburg, Russia, the Herrenhausen Gardens in Hanover, Germany, and the Palace of Versailles in France. Today, the villa remains a cherished UNESCO World Heritage Site, captivating visitors with its ancient grandeur in Tivoli, Italy
Frequently Asked Questions
Villa Adriana, also known as Hadrian's Villa, is an ancient Roman villa located in Tivoli, Italy. It is famous for its expansive grounds, remarkable architecture, and artistic significance.
What is Villa Adriana known for?
Villa Adriana is renowned for its extensive complex of buildings, gardens, and water features, reflecting the opulence and sophistication of Roman imperial life.
Villa Adriana was commissioned by Emperor Hadrian in the 2nd century AD. While the names of specific architects involved are not fully recorded, their collective expertise resulted in this grand Roman marvel.
Where is Villa Adriana located?
Villa Adriana is situated in Tivoli, approximately 30 kilometers (19 miles) east of Rome, Italy.
How far is Villa Adriana from Rome?
Villa Adriana is about a 45-minute to 1-hour drive from Rome, or approximately 30-60 minutes by trains/buses.
What are the Villa Adriana opening hours?
Villa Adriana opens everyday at ( Am. The Villa is shut on 1 January and 25 December
What is the dress code for visiting Villa Adriana?
The dress code for Villa Adriana is generally casual and comfortable. Swimwear, bare-chested, and shorts are not permitted for men or women.
Can I take photos inside Villa Adriana?
Photography is allowed, but the use of tripods and flash is prohibited.
Can I buy Villa Adriana tickets online?
How much does a ticket to Villa Adriana cost?